VC Star Article - Front and Center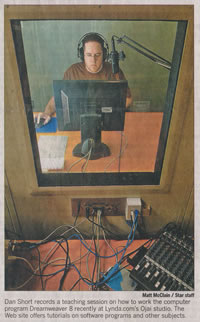 While I was in Ojai recording the Dreamweaver 8 Beyond the Basics title for lynda.com there were some reports from the Ventura County Star writing an article on lynda.com. They wanted to take a few photos of someone doing a recording, and they ended up using a shot of me on the front page of the Business section of their February 15th article. See mom and dad, I really do do real work :). Click the image for a larger version.
Read the article here (requires free registration).
6 Comments